EDIT MAIN
Special Education
The Fairfield City Board of Education makes services available to all students eligible for special education. Students are determined eligible through a Multi- Eligibility Determination Committee, which includes the parent and if appropriate, the student. The Alabama State Code defines the criteria for each of the thirteen categories to include the following:
Autism
Deaf-Blind
Developmental Delay
Emotional Disturbance
Hearing Impairment
Intellectual Disability
Multiple Disabilities
Orthopedic Impairment
Specific Learning Disabilities
Speech Language Impairment
Traumatic Brain Injury
Visual Impairment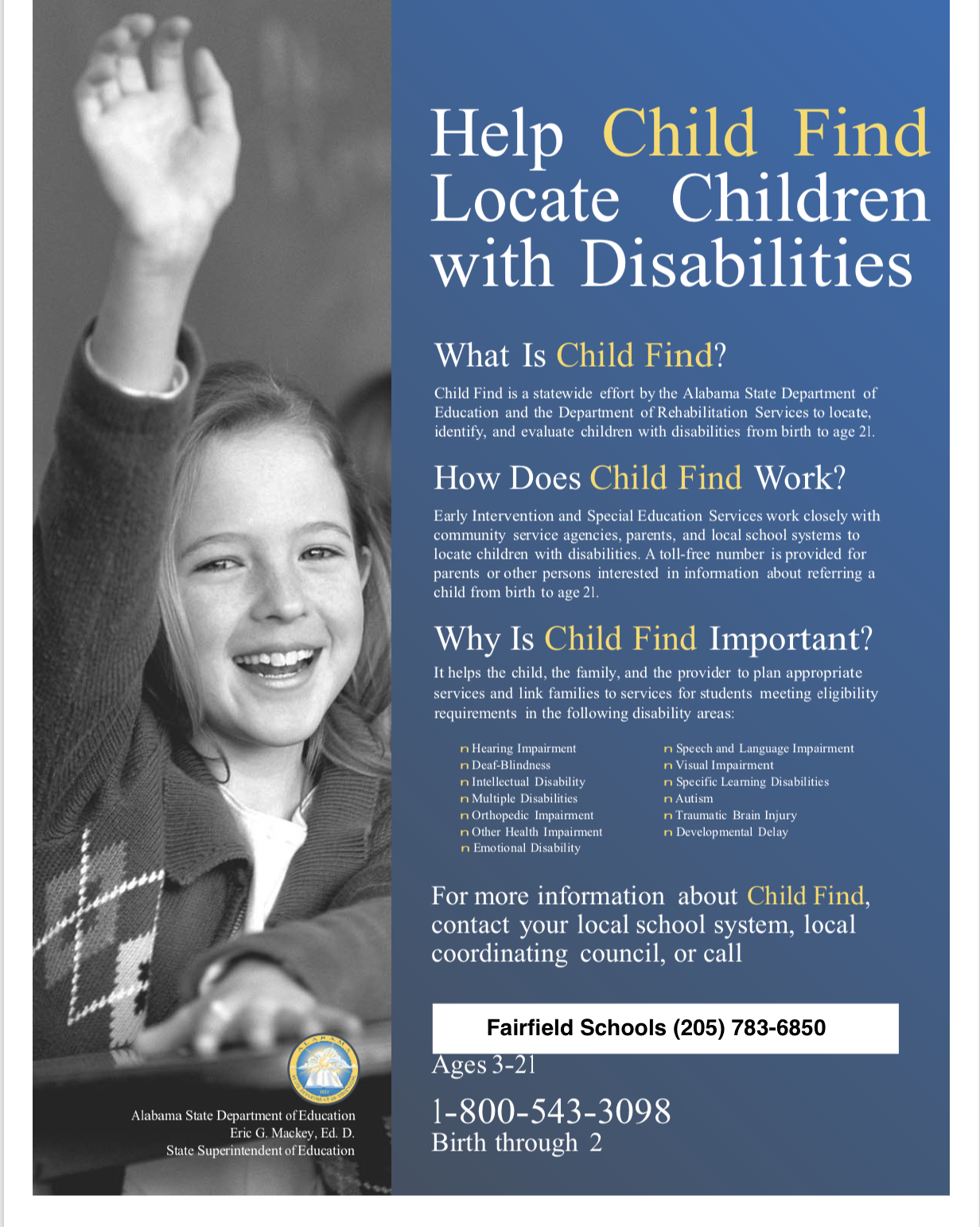 Help us locate children with disabilities!
The Fairfield City Board of Education has Child Find procedures that ensure that all children within its jurisdiction, ages birth to twenty-one, regardless of the severity of their disability, and who need special education and related services are identified, located, and evaluated. These Child Find procedures also apply to children who attend private schools, within the Fairfield City Board of Education district, highly mobile children with disabilities (i.e. migrant and homeless children, or children who are wards of the state), and children who are suspected of having a disability and are in need of special education even though they are advancing from grade to grade. Individuals with Disabilities Education Act (IDEA)
To help us locate children with disabilities you may contact the Fairfield City Schools Special Education Department at (205)783-6850.
Documents
Response to Intervention (RTI)
Contacts
Director Ardrene Bishop 205-783-6809 abishop@fairfield.k12.al.us
Secretary Carolyn Bester 205-783-6850 cjjones@fairfield.k12.al.us